In my request for travel support to attend the Association of College & Research Libraries Immersion '12 Teacher Track Program, I pledged to blog about my participation in Immersion. To read more about my Immersion experience, check out my posts tagged immersion or my Immersion tweets.

---
Tuesday's schedule included sessions on Assessment-as-Learning: Philosophy and Outcomes, Learning Styles, Learning Theory, and Active Learning.
Some highlights, all from our discussions of learning outcomes:
Debra Gilchrist spoke of assessing what one values, not what's easy to get.

This spoke to me, because I think some of the measures in my library's last assessment plan were more easy than they were valuable (number of attendees, number of tutorials, etc.). Deb's words gave me some language I can use when advocating for different measures; for example, do we value attendance, or do we value learning? I try not to complain about anything at work without offering a possible solution, so this part of the discussion was a definite "do try this at home" moment for me.

Sharing outcomes with students.

I do this already, but it was suggested that we share the verb or action phrase at the beginning of instruction and ask students to supply the "in order to" phrase at the end, basically answering the question, "now, why did we do that?"

Changing conversations with faculty.

Someone stated that outcomes can change our conversations with faculty, shifting the conversation from "what do you want me to cover" to "what do we want the students to be able to do."  I hadn't thought about outcomes in this way before, and, due to a shift in our approach to EN102 instruction, I'll now have a chance to put this into practice.
Someone asked how best to respond when an instructor requests that a librarian cover too much content during a session. I could identify with this concern because, until fairly recently, our 100-level English instruction request form included six desired learning outcomes instructors could choose when signing up for an instruction session; often, instructors selected all six. Even before Immersion, I knew this was way too much for a 50-minute one-shot, but I struggled with what to do about it; we're the ones who came up with the six outcomes and told them they could pick as many as they wanted, after all. An Immersion faculty member made this suggestion: list all of the outcomes (on the board, on a handout, in the course shell, etc.), say "here's the three I'll be covering in class today," and point to where the students and instructors can get what they need to address the others (a tutorial, a Blackboard module, a workshop, a LibGuide, a research consultation, etc.). I thought that was a pretty brilliant idea, particularly because it allows one to say "sure, here's how we'll cover all these" rather than "nope, not doing it."
Having fed my brain, I skipped the dining hall Tuesday night.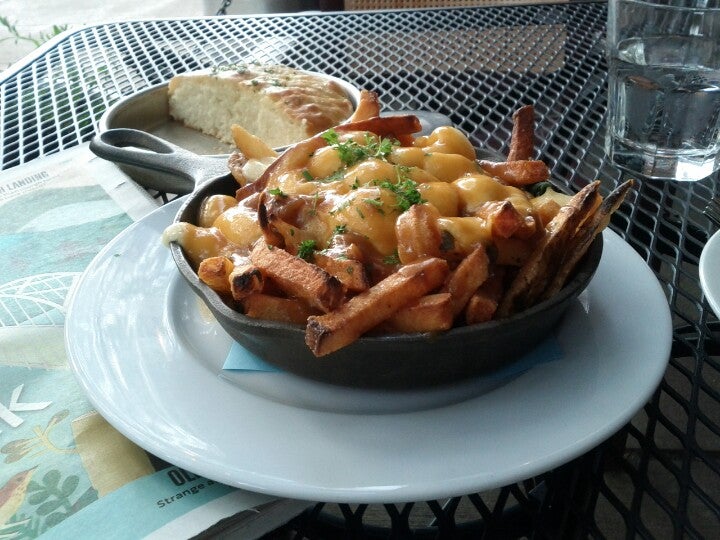 It was delicious, by the way.